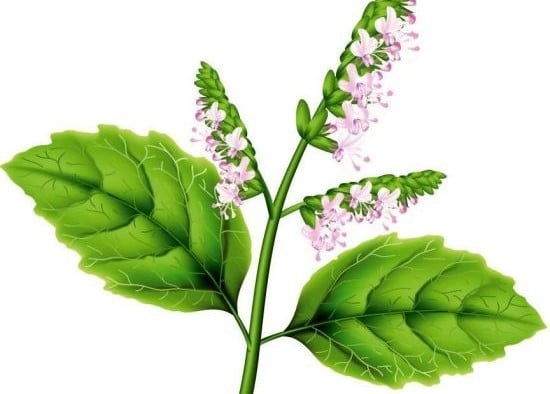 Patchouli - Pogestomeon Patchouli
Its name is derived from the ancient sanskrit words 'patch' and 'elli' meaning green leaf. Others believe it derives from the hindu word 'patchoi' meaning 'to scent'.
Patchouli originates from Southeast Asia and its oil is extracted from the leaves and the flowers. It was used in traditional medicine in Malaysia, China, India and Japan to treat skin and hair conditions. 
The scent of Patchouli became hugely popular in the 60s with the flower power movement. At the time, it was the synthetic formulation of the oil that was used and it was a  particularly pungent scent that became strongly associated with hippies and marijuana. 
However pure patchouli oil has an aroma that is sweet, musky, earthy and woody. Like good whisky, patchouli gets better with age and the scent develops a velvety richness as it's colour turns into a deep amber.
Patchouli was a precious commodity from thousands of years ago. It was used by the Egyptians for skin, Romans for its aphrodisiac properties and traded for gold by the Early Europeans.
The insecticidal properties of this oil has been known for thousands of years. It was used as a moth repellent and fabric fragrance in china and India particularly during the 19th century textile trade. The scent was so widely used that it went on to be an indicator of authentic oriental fabric. Garment makers in England and France were obliged to add patchouli to their imitation products to make them appear more marketable. 
The beneficial properties of pathchouli essential oil come from its constituents such as alpha patchoulene, beta patchoulene, alpha guaiene, cryophyllene, norpatchoulenol, pogostol and seychelles just to name a few. It also contains patchouli alcohol, a compound that has neuroprotective, anti influenza and anti inflammatory properties. 
Patchouli essential oil has long been used in ancient cultures in skin care and to alleviate skin issues such as acne, eczema, inflammation, dermatitis and chapped skin. It's cell rejuvenating properties lessens the look of scars. It is also used for hair to prevent dandruff and balance oiliness on the scalp.
It is a popular addition to perfumes, soaps and lotions due to it's intoxicating aroma.
Patchouli Essential Oil's constituents have anti inflammatory, antiseptic, aphrodisiac, astringent, cicatrisant, cytophylactic, deodorising, diuretic, febrifugal, fungicidal and insecticidal properties.
Orli is proud to be a stockist of earth Yard's patchouli pure essential oil. It is critical to only use the purest of essential oils that have gone through stringent testing. We only stock earth Yard's certified organic range of single origin essential oils.  
Your skin will benefit from adding just a couple of drops of patchouli to your daily serum or moisturiser. Click here to purchase the highly versatile yet affordable patchouli oil. 
xo
jo